Skinny Bitch, have you read it? I discovered this no-nonsense book after a friends of mine gave me "Skinny Bitch in the Kitch," a recipe book that complements the New York Times bestseller.
Whereas it's a tough-love approach to changing the diets of the human race for their health and the sake of animals, I will admit it can be hard to translate into their way of life, no matter how bad you want to.
The books offer a new way to look at our everyday food and how it is negatively affecting our health. But how does this affect our ecosystem and planet? Well, for starters, buying organic and local to get away from pesticides and using even more fossil fuels to transport out-of-season foods to your area. With the popularity of organic and all-natural taking a swing up in the past year or two, the prices of these expensive items makes it more manageable now for everyday families (I can't call them expensive anymore, huh?)
Many stores are creating their own organic lines, which are less expensive then the name brands' versions of organic. For example, a 15-oz. can of O organic black beans (O is Safeway's organic line) is $1.05, while Whole Foods' 365 label organic beans are 99 cents. On the shelves of Safeway, Bush's Best beans cost $1.39 per can, according to "Go Green, Live Rich."
What about just buying local, or growing your own? Nowadays, food travels about 1,500 to 2,500 miles to reach our plates, which includes gas, fumes, and fossil fuels for pesticides, tractors, processing, cool storage and packaging, according to the book.
A pack of seed can range from 50 cents to $3-5, but that is how much we pay for the vegetables and fruits in the grocery store for one time. The seeds can yield many more times that single purchase, lasting months. The same goes for local farmer's market food, which saves on food miles just as well as growing it yourself.
Now, for first-time gardeners, the total price can be steep at first to buy the gardening tools, etc. Look to see what you have in your basement or garage that you can use (you may already have the stuff!), or just think of what a good investment it will be and how much money you will really save after a few seasons.
There are many resources on the Web for newbies at here, here and here ; or if you live in an apartment (like me), try container gardening. If gardening isn't your thing or you can't wait to sink your teeth into a juicy, homegrown apple, search for farmer's markets on Local Harvest.
So, now on to the goodies.
"Skinny Bitch" talks about carbs, and how certain carbs are actually good for you and a vital part of a vegan's diet — complex carbs. These include fruits, vegetables, whole grains and legumes, which should be eaten every day. The book also states simple carbs should be avoided, i.e. white bread, white flour, white pasta, white rice and white sugar. That just makes me cry.
But the authors state that readers can still enjoy the good life: "So what's a pig to do? Have her cake and eat it — just make the cake with good ingredients. Duh!"
I'm not going to lie: for these "Bitchtastic Brownies," I use white flour, white sugar and any vegetable oil I have (except olive oil.) I have bought beet sugar in the past, but at $5 for a large sack, I can't justify all the time.
Whereas I still battle with the simple carbs (and the bulge around my tummy because of it), you can go above me and use the ingredients as prescribed. No matter what, these brownies are surely "bitchin'" and definitely worth going veg for.
Makes 9 to 12
Ingredients:
5 oz unsweetened vegan chocolate, chopped
1 & 1/4 cups Sucanat (or other dry sweetener)
3/4 cup silken tofu
6 tablespoons safflower oil, plus more for the pan
1 tablespoon pure vanilla extract
1/3 cup whole wheat pastry flour
2 tablespoons unsweetened cocoa powder
1/4 teaspoon refined sea salt
Preheat oven to 350 degrees F. Oil an 8×8 inch baking pan; set aside.
In the top of a double boiler or in a medium metal bowl set over a pot of gently simmering water, melt the chocolate, stirring just until smooth. Transfer the chocolate to the food processor and add the Sucanat, tofu, oil and vanilla; process until smooth.
Add the flour, cocoa powder and salt, pulsing until just combined. Transfer the batter to the prepared pan, spreading it evenly.
Bake for 30 minutes, until a toothpick inserted into the center comes out clean. Thoroughly cool on a cooling rack before cutting into squares.
I definitely recommend reading "Skinny Bitch" and "Skinny Bitch in the Kitch":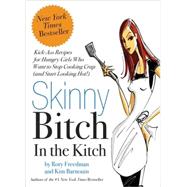 More VeganMoFo